There are some fantastic restaurants at Cheshire Oaks and well worth a visit when on your shopping spree. Not only are there some really great restaurants at Cheshire Oaks but the Coliseum is hands down one of the best destinations for fashion, food and family days out too. With several well-known retailers including Next and Boots, Debenhams, and Outfit, the concession store that sells high-quality brands such as Topshop, Dorothy Perkins, and Miss Selfridge, there is something for everyone at the shopping park.
The food scene at Cheshire Oaks Coliseum is also something to marvel about. Some of the restaurants in Cheshire Oaks include Pizza Hut Restaurants, Nando's, Frankie & Benny's and Miller & Carter Cheshire, to name just a few. You also absolutely cannot miss the striking sensory garden on site which is accessible to everyone, where you can unwind with your family after eating at any one of the many phenomenal restaurants within the shopping park. Plus, there are several special allocated areas where you can change your children's nappies away from prying eyes in 7 stores, including Burger King, Pizza Hut, Costa, Starbucks, Next, Debenhams and Outfit. With free Wi-Fi to ensure you stay connected as you go about your business, and a total of 1,200 free parking spaces at Cheshire Oaks Coliseum, your entire experience at the establishment is guaranteed to be fun and stress-free.
It is no secret that intensive shopping can make you hungry. Which is why you have many options of places where you can grab a bite to eat, no matter what your craving is. Expect to find a wide range of foods, including tasty Italian delicacies, spicy Mexican food, American steak as well as various forms of fast foods. Cheshire Oaks is the home of comfortable and lovely restaurants where you can buy generous portions at very tasty prices.
ZIZZI CHESHIRE OAKS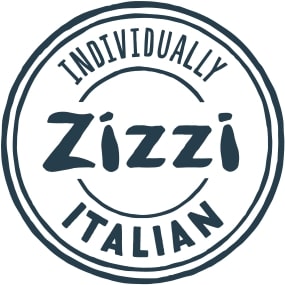 Zizzi is a lovely Italian restaurant which is designed in a whimsical Alice in Wonderland theme. It is the perfect place to eat just after watching a movie in the nearby cinema, or after you've worked an appetite shopping in the nearby retail stores. The tasteful interior of the restaurant is decorated with stunning artwork painted by local artists, provide beautiful scenery to admire as you enjoy your meal.
The food served at the restaurant is predominantly authentic Italian dishes, with a menu that contains pasta, pizza, and risotto, as well as vegan and vegetarian options. Some of the outstanding items on the menu include:
1. Pizza Rustica
This is their signature pizza, distinctive for its bigger base and slightly crispier texture, with the added delight of toppings. There are many variations of this pizza, all of which incorporate the mouthwatering mozzarella cheese in one form or another. They range from the Pollo Rosso Rustica pizza with its spicy chicken, Fior di Latte and smoked mozzarella, to the Vegan Rustica Quattro, a delicious seasonal special with four varieties of Mozzarella.
2. Meat and fish dishes
The Pollo Prosciutto is a flavorful dish constituting chicken breast garnished with sage and wrapped in prosciutto ham, served with a white wine sauce and a side of fried potatoes coated with herbs and green beans.
Spiedini Pescatore is a relatively new dish that comprises of lightly smoked salmon fillet, shell-on king prawns, with a mix of courgettes, peppers and garlic butter sauce. This is served with a baby gem salad with avocado Caesar dressing and a side of fried herby potatoes.
3. Salads
The healthy Arcobaleno "rainbow" salad consists of quinoa, cannellini and soybean mix, pea shoots, beetroot and roasted rainbow carrots with chilli threads, a white bean, and basil pesto.
The delicious Super Zucca salad with chicken skewers is just as delicious as it sounds, with roasted butternut squash, goat's cheese, mint, courgettes and lentils tossed in white balsamic dressing and served with the Zizzi exclusive "little soul" loaves of bread and chicken skewers.
4. Dessert
After the main meal, enjoy the Zizzi Gelato, which is the milkier Italian version of ice cream. Have 3 scoops of smooth gelato, with a wide variety of flavours to choose from.
If gelato doesn't sound too enticing, you can try the chocolate and butterscotch sundae, a mouthwatering sundae that melts in your mouth.
There is a seasonal special that caters to the needs of vegans known as the vegan caramelized biscuit cheesecake, consisting of a caramelized biscuit and a dairy-free cheesecake on a cinnamon biscuit base with crushed honeycomb.
5. Drinks
The Zizzi drinks menu is just as fascinating, with a selective stock of international bottles of wines, as well as inventive cocktails. If you are a teetotaler, there is a wide variety of other drinks for you to try.
6. Reviews
Zizzi has received consistently stellar reviews.
On Trip Advisor, Zizzi has an average rating of 4/5 based on 411 reviews, with a majority of the customers praising the food for being delicious and for including vegan, vegetarian and gluten-free options. The service provided by the staff is also highly appreciated, with customers acknowledging the friendliness and efficiency. Zizzi also receives high praises for its value, since the delicious foods and drinks served are considered to be affordable. The ambience of the restaurant is described as welcoming by most of the customers as well.
On Bookatable, Zizzi achieves a 4.2/5 based on 65 reviews. Customers praise the quickness of the staff in seating and serving them. The food is also highly praised by all the customers, and the atmosphere is similarly regarded to be welcoming.
On Facebook, Zizzi has a 4.3/5 based on 187 votes, with customers praising the food, wines and customer service. The prices are also regarded to be pocket-friendly.
Zizzi is open Monday-Sunday for lunch and dinner, and if you love to dine al fresco, you will love the outdoor dining area.
Click Here To Find Out More & Visit Their Website
CHIQUITO CHESHIRE OAKS
This is a Tex-Mex restaurant that serves a wide range of Mexican and Tex-Mex dishes. Some of their popular dishes include fajitas, burritos, and ribs, along with a gluten-free menu. You will also enjoy their famous margaritas. Some of the items that might interest you on the menu while you are here include:
1. Fajitas
There are various ways you can have your fajitas, from the classic chicken to the tender steak. There is even a seasoned roasted veg fajita option. Spice it up with extra barbeque sauce or hot habanero sauce if you are feeling especially brave.
2. Street food
You have a lot to choose from here including the extra crispy tacos, beef chilli tortilla stack, mini chicken burrito, and the mouth-watering chicken, chorizo and sweetcorn quesadilla bites.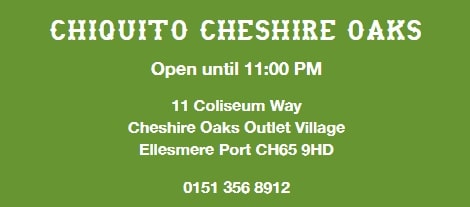 3. Classics
The Chiquito classics include the classic beef chilli, jambalaya, and fiery chicken among others.
Naked burgers
You can find these delicious and healthy treats on the gluten-free menu, with tasty options such as the beef, chorizo and pulled pork and the chicken and barbecue pulled pork.
4. Desserts
Finish your meal by indulging in saccharine dessert options such as chilli pineapple thins, golden nugget cheesecake, brownie baked banana, and the blueberry & apple crumble.
5. Drinks
The drinks here are tasty and fresh and infused with a Latin flair. You will find classic cocktails such as the Pina colada and mojitos, variations of margaritas, the outstanding tequilas, rum, vodka, and wines. For those that prefer non-alcoholic drinks, sample the "mocktails", which include the handcrafted passion fruit and coriander lemonade, mango & passion fruity Agua Fresca, and the tasty rhubarb & berry mist.
6. Reviews
On Trip Advisor, Chiquito holds a 3.5/5 approval based on 847 reviews. Customers especially enjoy the food, describing the meals to be tasty and well-cooked. The service is also labelled as quick, with most of the customers describing the staff as friendly and engaging. The items on the menu are also reasonably priced, and the atmosphere easy-going.
On Facebook, the ratings were similarly impressive, with a 4.1/5 approval based on 468 votes. Customers praise efficiency despite the restaurant being a tad busy. The food is also considered to be brilliant, with some of the customers highly recommending it.
Based on 66 reviews, Chiquito holds a 4.1/5 rating on Bookatable, with most of the customers finding the pricing to be affordable. The service and ambience are also praised.
Chiquito is open Monday-Saturday from 9 am to 11 pm, and on Sundays from 9 am to 10.30pm
Click Here To Find Out More & Visit Their Website
MILLER & CARTER CHESHIRE OAKS

Miller & Carter is situated right next to the Cheshire Oaks designer outlet so you can pop in for lunch or dinner after shopping. This restaurant is an exclusive steakhouse where you can enjoy hand-cut, 30-day aged British and Irish steaks prepared by passionate chefs. All the prime steaks are served with parsley butter, a slice of the renowned onion loaf, seasoned fries, your pick of steak sauce and beef tomato. Some of the meals you should try out on the menu include:
1. The 50-day aged ribeye
This fine steak comes in two sizes: the 8-ounce ribeye and the 16-ounce grass fed ribeye, both of which are packed with intense flavour, and come highly recommended.
2. The butcher's block
This item combines a variety of steak flavours and cuts such as the 30-day aged rump 8oz, the 30-day aged fillet 8oz and the 50-day aged grass fed ribeye 8oz. Additionally, you will be served with a brisket stuffed marrow bone.
3. The long bone tomahawk
The long bone tomahawk is the best way to get that explosion of flavour in your mouth that meat lovers enjoy so much. It also provides the ultimate ribeye sharing experience.
4. Glazed chicken burger
Aside from the steaks, you can opt to have this scrumptious burger that constitutes chipotle-glazed chicken breast topped with smoked streaky bacon, savoury corn fritter, and smoked cheddar cheese.
5. Buttermilk chicken experience
This meal promises the "ultimate chicken experience", consisting of boneless tender half chicken accompanied by a rich chicken dripping gravy and crispy chicken skin. This is served with poached egg, spicy corn, and smoked cheese fritter, grilled asparagus, and seasoned fries.
6. Salmon Supreme
If you are a vegetarian, you will highly appreciate this delicious salmon meal. Served with parsley buttered baby potatoes, sautéed greens and a lobster prosecco sauce among other things, this is a must-try.
7. Chicken Caesar salad
This is another tasty vegetarian option served with crunchy gem lettuce and Grana Padano and topped with garlic croutons and marinated anchovies.
8. Desserts
There is no shortage of delicious desserts here, with some of the most popular being the indulgent Miller's chocolate hazelnut bomb, the banoffee pie, which combines a biscuit base topped with toffee, fresh bananas dipped in caramel and cream, and the British cheese board.
9. Drinks
You will find an exceptional wine list here, from delicious reds to fruity rosé and crisp white wine. Other drinks worth a mention include the French martini, the non-alcoholic elderflower sherbet cocktail, and the signature pornstar martini.
10. Reviews
Chester & Miller is favourably reviewed on Facebook, with a 4.6/5 rating based on 675 votes, with patrons praising the ambience, the stylish interior and the well-prepared and delicious food. The restaurant is also termed as child-friendly.
On Bookatable, Chester & Miller holds a 4.4/5 rating based on the reviews of 139 customers, most of them praising the food, drinks and the helpful staff.
Trip Advisor also highly rates the restaurant, with a 4.5/5 score based on 1,183 reviews. Apart from the meals being lauded. The pricing of the items on the menu was considered to be reasonable. Furthermore, Chester & Miller is ranked the 8th best out of the 98 restaurants in the area.
Chester & Miller is open on Monday to Thursday midday-11pm, Fridays & Saturdays midday-midnight and on Sundays midday-11pm.
Click Here To Find Out More & Visit Their Website
NANDO'S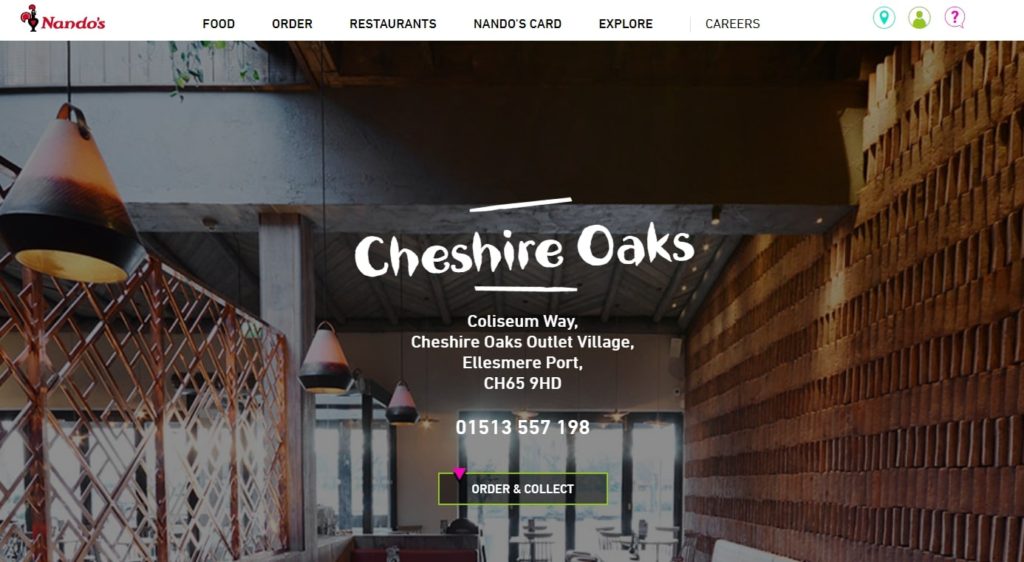 There is so much to explore in the Portuguese-oriented Nando's apart from the legendary Peri-Peri chicken they are famous for, from the delicious fillet steak and chargrilled veg pitta to the chicken livers and Portuguese roll. Notable meals include:
1. Sunset burger
This deliciously messy meal combines two chicken thighs, melting cheddar cheese, smoked red pepper chutney and baby spinach wrapped in a sweet roll.
2. Fino pitta
Fino pitta is an indulgent delicacy comprising of a toasted pitta bursting with flame-grilled Peri-Peri chicken thighs, caramelised red onion relish, grilled halloumi cheese, and mayonnaise. This is all topped with lettuce.
3. Veggie Cataplana
Enjoy the sumptuous veggie cataplana, a vegetarian option, comprising of chickpeas, chargrilled veg, and beans in a savoury tomato and coconut sauce, accompanied by spicy rice sprinkled with coconut shavings.
4. Fillet steak Prego roll
This is Nando's twist on a classic Portuguese sandwich, with flame-grilled beef steak marinated in Per-Peri with baby spinach, garlic aioli, mayonnaise and tomato, set on a Portuguese roll.
5. Quinoa salad
This healthy vegetarian salad is made with sweet potato and avocado chunks, and a sprinkle of feta cheese, Peri-seeds, and grains.
6. Jumbo platter
Nando's also offers wonderful shared meals. This meal for 4-6 people consists of two whole chickens and five large sides.
7. Dessert
Enjoy gelado, which is the lighter and creamier Portuguese version of ice-cream. You can choose to have it in a range of delicious flavours available.
Another note-worthy desert is the Nata, a delightful Portuguese tart. Have the naughty Natas, made from traditional Portuguese custard tart, freshly baked.
8. Drinks
There is a wide range of drinks served at Nando's, from the basic soft drinks (coca cola, rubro, pressed apple juice) to hot drinks (galao, tea infusions) and carefully selected Portuguese and South African wines to partner spicy foods perfectly.
9. Reviews
Based on 331 reviews, Nando's holds a 4/5 approval rating on Trip Advisor, with patrons expressing appreciation for the food and the friendly servers that were attentive to their needs. The value of the food holds a 3.5/5 approval rating.
On Facebook, the food is also termed as delicious, and though the restaurant is busy at times, the lovely atmosphere makes the short wait worthwhile.
Nando's is open daily, with online ordering also available.
Click Here To Find Out More & Visit Their Website
PREZZO CHESHIRE OAKS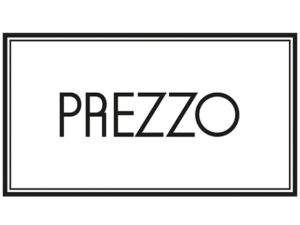 Prezzo is a stylish restaurant that draws inspiration from the city of Milan, Italy. The Italian dishes here are carefully prepared with the flavour and flair of the city, resulting in delicious warm meals. The restaurant is situated next to the Vue cinema, making it the perfect place to refuel after watching a movie. Enjoy the Milanese spirit in meals such as:
1. Classic pasta
You have two choices when it comes to the classic pasta, penne or spaghetti, either of each is tossed and tumbled in whatever sauce you desire, including carbonara, Pomodoro and arrabbiata to name a few.
2. Prestigio
This is the Prezzo variation of the classic pizza, with a larger and thinner base. There are of two types: the posh pepperoni with salami Milano, salsiccia piccante pepperoni, prosciutto, and sweet roquito chillies and the Prestigio tre Gusti with tomato, pancetta and roasted chicken in addition to the salsiccia piccante pepperoni.
3. Calzone tre carni
Try this special folded pizza with the salsiccia piccante pepperoni, crispy pancetta and roasted chicken served with rocket garnish and Pomodoro sauce.
4. Aubergine parmigiana
Enjoy this second-course meal, specially made for vegetarians with baked aubergine layers, tomato, and basil, with a side of rocket salad.
5. Puy lentil, roasted beetroot, butternut squash salad
This delightful salad is suitable for both vegans and vegetarians, mixing tender stem broccoli, tomatoes, olive oil, and balsamic dressing.
6. Italian meatballs
You will love this authentic Italian meal that combines pork, beef, pancetta and veal meatballs with Gran Montavano cheese and Pomodoro cheese.
7. Dessert
Vegans have a wide selection of desserts at Prezzo, with the likes of salted caramel chocolate tart and honeycomb smash cheesecake. There is also the gluten-free pannacotta with three mini cottas and a fruit compote.
8. Student discount
If you are a student, you will be glad to know that there is a 25% off the total food bill at Prezzo, as long as you have a valid student ID card. A maximum of 4 people per card is entitled to this discount, from Sunday-Thursday.
9. Reviews
Bookatable gives Prezzo a 4.2/5 rating based on 231 reviews, with patrons praising the food, service, hygiene, and atmosphere in general.
On Trip Advisor, Prezzo also has an impressive rating of 4/5 based on 635 reviews, with customers praising the authentic Italian cuisine and the accommodating menu that includes vegan, vegetarian, gluten-free and lactose-free options. The portion sizes and service are also highly praised.
Prezzo holds a 4.1/5 rating on Facebook, with patrons similarly praising the speedy service, great food, and the recently refurbished décor.
Prezzo is open Sunday-Thursday from 11.30am to 10 pm, and on Friday and Saturday from 11.3am to 11 pm.
Click Here To Find Out More & Visit Their Website
HUNGRY HORSE CHESHIRE OAKS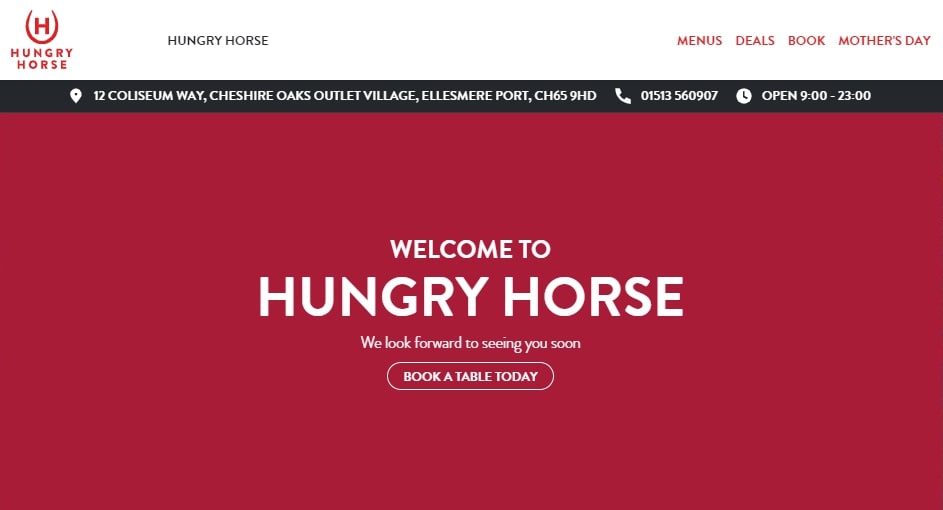 Visit this wonderful pub restaurant for the great value. This spacious venue offers the classic British pub grub with a family vibe. The menu at Hungry Horse is packed with dishes that are full of flavour and fresh ingredients specially created by professional chefs. There is a "Live Well" section as well that consists of healthy dishes that contain less than 600 calories. Some of the highlights on the menu include:
1. The B.E.S.T Burger
This tasty burger is a tantalizing combination of bacon, eggs, sausages, and tomatoes. This is served with crispy fries and brown sauce.
2. Quadzilla burger
You will take a quick liking to this delicious burger, accompanied by mixed leaves with tomatoes, cucumber, and shredded vegetables, drenched with French dressing, and it contains less than 500 calories!
3. Steak pie
Enjoy the shortcrust pastry pie incorporated with tender pieces of beef dripped on a rich Ruddles ale gravy, set on a bed of mashed potato and additionally topped with 8-ounce rump steak and beef gravy.
4. Chicken Tikka salad
This tasty salad combines the savoury taste of spicy chicken tikka with the coolness of .cucumber and tomatoes.
5. Ultimate big "candymania"
This dessert is a customer favourite, combining soft cookie pieces, 4 scoops of vanilla, and 4 additional scoops of chocolate flavoured ice cream, chocolate sauce, and candy with a whipped cream topping.
6. Reviews
Hungry Horse has a 3/5 rating on Trip Advisor based on 704 reviews, with regulars praising the fantastic staff and fast service, along with good value. A Trip Advisor user similarly reviewed it, giving the restaurant a 5/5 rating for the value, service, food, and atmosphere.
Click Here To Find Out More & Visit Their Website
FRANKIE & BENNIE'S CHESHIRE OAKS

This is a diverse New York Italian restaurant where you can find a juicy chicken burger along with a classic Italian meal. Frankie & Bennie's is a family friendly place where you can have a fun and comforting meal as you enjoy some downtime free shopping. Gluten-free and vegetarian dishes are also available here. Popular items on the menu include:
1. Grills and salad
There is a gluten-free option for grills and salads which includes meals such as the salmon fillet, sirloin steak, and the delicious New York barbecue chicken. Some of the popular salads are the Nashville chicken skewer salad and the seared steakhouse salad.
2. Pizza
Apart from the classic pizza flavours, you can also enjoy the scrumptious goats' cheese vegetarian pizza and the intoxicating Margherita pizza.
3. Dessert
You are spoilt for choice when it comes to dessert at Frankie & Bennies, with the dessert menu boasting delicacies such as variants of classic waffles, different flavours of sundaes and shakes.
4. Drinks
Enjoy a wide variety of drinks ranging from house specials such as the Bronx hard cream soda and the Woo Woo pitcher. You could always opt to wash your meal down with a beer as well, with a variety of options to choose from. Nonalcoholic drinks include fruit juices, cleverly concocted mocktails, and hot drinks.
5. Reviews
On Trip Advisor, Frankie & Bennie's holds a 3/5 based on 359 reviews, with patrons favouring the delicious Italian-American cuisine, as well as the friendly and efficient staff. The ambience is also regarded as laidback and relaxing.
On Facebook, the restaurant also receives numerous favourable reviews, with a 3.7/5 rating based on 258 votes. Customers praise the reasonable pricing of items on the menu as well as the delicious food.
Click Here To Find Out More & Visit Their Website
The official website for Cheshire Oaks Coliseum can be found here at https://www.coliseum-leisure.co.uk/